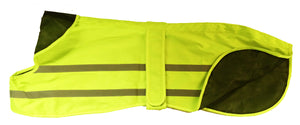 High Visibility Lightweight Rain Macs
Keep your greyhound safe and seen in this high-visibility rain mac.
4 sizes; Xtra Small (24"-26") Small (26-28") Medium (28-30") Large (30-32") X Large (32-34")
Hi vis yellow this bright and bold mac has been designed to include reflective strips for added safety. Created from an durable outer fabric with soft lining this shower-proof rain mac is ideal for the autumn/spring months.
These coats will measure 2″-3″ longer than the size you order.
Eg: if your dog is normally a size M 28" the coat will be 30" This is to provide coverage to your dog's rear. If you don't want the overhang simply order the lower size. the S 26"-28"
 Linings may vary, colours may vary slightly from those shown.
Should you wish to exchange for another size we are happy to do so but you will need to pay for the return and second dispatch postage. Coats must be in original packaging and in mint condition. If the packaging is damaged or missing there will be an additional charge of £2.00 for re-packaging.