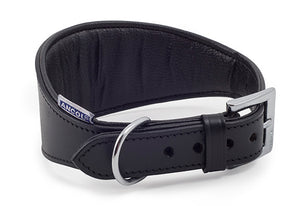 ANCOL Padded Greyhound Collar
The Ancol Heritage greyhound padded leather collar is designed in the traditional greyhound collar shape with quality bridle leather and extra padding for a supremely comfortable and attractive collar. The leather's natural beauty is showcased through the clean and unfussy design. Leather is an ideal material for dog collars as it is strong, weather resistant, and long-lasting, allowing your dog to get out and about in all weathers. Despite its strength leather is naturally flexible for your dog's comfort, this is enhanced by the soft padding in this collar. This collar has a sturdy buckle and D-ring for simple adjustment and lead attachment.
Heritage leather and leather-handled chain leads can be bought from Ancol in the same style and colour to perfectly complement the Ancol Heritage Greyhound Padded Leather Collar.
Size-34-43cm.