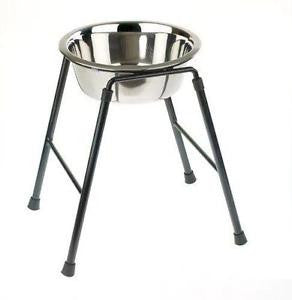 1 Bowl Raised Feeder
Raised bowls are perfect for taller dogs such as greyhounds.
1 x 1400ml stainless steel bowl, 34 cm heigh x 44 cm wide x 10 cm depth
1 stainless steel bowl on a sturdy metal stand which can be quickly and easily dismantled/erected.
Self assembly, push fits, no tools required, instructions supplied in box.
We also do a double bowl version.