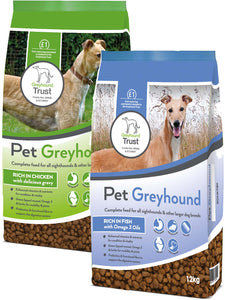 Pet Greyhound Food
Rich in chicken with a protein level of 19%, key vitamins, amino acids and nutrients for improved coat condition. Green-lipped mussel, Omega 3 fatty acids and mobility herbs have also been included to support your dog's joints. Fibres and prebiotics have been chosen to support digestive and immune systems. We have also been conscious to make sure there are no added artificial colours, flavours or preservatives to keep the food as natural and wholesome as possible.

We have worked with renowned animal food supplier Dodson and Horrell to create a delicious, complete diet specially formulated with retired greyhounds in mind but suitable for other large breeds too.
Chicken diet 14kg, Fish diet 12kg- approx. enough to feed 1 average greyhound for 1 month.
Can be fed as a complete food or with meat.
PLEASE NOTE:  Due to new regulations with regards to Brexit we are currently unable to ship food to outside of the UK. We apologise for any inconvenience caused.